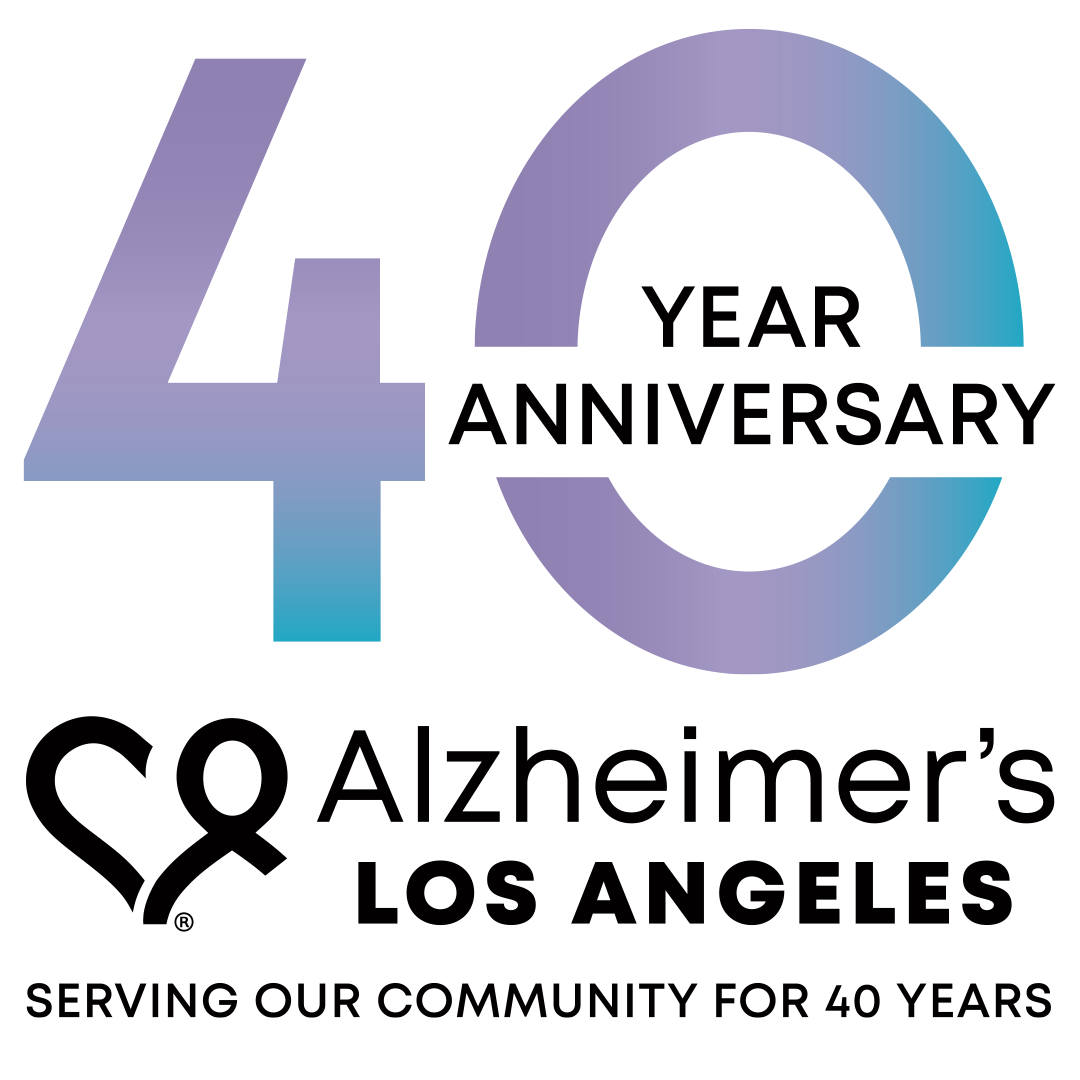 Serving Our Community for 40 Years
Founded by concerned community members in 1980, Alzheimer's LA officially incorporated in February 1981. Now, in 2021, we proudly mark our 40th anniversary of steadfast commitment to the aging community of greater Los Angeles and we are grateful for the continued support and partnership of so many.
Throughout our long history we have not wavered from our mission to provide the critically needed education, support, and advocacy for which families facing Alzheimer's have come to rely on us. In this difficult time of COVID-19, we have redoubled our commitment to providing the care families so desperately need.
Today, we are leaders in innovative programming for people living with Alzheimer's or another dementia. We have earned the trust of families, of diverse communities, and of the professionals who serve them through our steadfast dedication to providing services and programs that truly improve peoples' quality of life.
With 40 years of serving the community, Alzheimer's Los Angeles is locally focused and nationally and internationally recognized for providing high-impact support, resources, and education to people and families facing the disease.
We now turn our vision to the future and commit to building on our legacy to ensure that anyone in need of help gets it. We will work to educate the richly diverse region of greater Los Angeles about what dementia is and isn't, and fight to eliminate the stigma that perpetuates misunderstanding and creates unnecessary barriers to accessing the support we're here to provide.
Until there's a cure, we'll provide the care.
The Alzheimer's Los Angeles Story
1979
Members of USC support group identify need for an organization to support caregivers
1980
Alzheimer's Disease and Related Disorders Association, Inc. (ADRDA) is founded; we later change our name to Alzheimer's Los Angeles
1981
Alzheimer's Los Angeles incorporates as California nonprofit
1983
Congress declares November as National Alzheimer's Disease Month for the first time
1984
Alzheimer's LA becomes a chapter of the national Alzheimer's Association while also maintaining our independent status as a registered 501(c)3 nonprofit
1988
• Congress approves $120 million for research, family support, and training: five new Alzheimer's Disease Research Centers are formed bringing total to 15
1989
• "Just for the Summer," a film about teens and Alzheimer's, is produced by Alzheimer's LA
• Alzheimer's LA offers 1st fall education series for caregivers
• The Journal of the American Medical Association publishes report stating Alzheimer's is more prevalent than previously thought.
1990
• Alzheimer's LA starts Multicultural Outreach Advisory Board (MOAB)
1991
• Alzheimer's LA initiates Home Care Assistance Program to offset financial burden of care at home
• "Tournament" event is created with involvement from the entertainment industry
• Alzheimer's LA holds the first conference on Alzheimer's disease
1992
• Alzheimer's LA leads the effort to develop El Portal: Latino Alzheimer's Project, funded by the California State Dept of Health and Aging with funding from the federal Alzheimer's Demonstration Grants to States. Implementation takes place in East and South LA leading to the creation of Spanish language support groups, adult day care centers, care management sites, and more.
• Alzheimer's LA establishes Night at Sardis gala
1993
• 1st Los Angeles Memory Walk takes place with 1000 walkers
• Alzheimer's LA develops a partnership with Kaiser Permanente ─the first healthcare system to improve quality of healthcare for people with dementia in managed care organizations
1997
• Alzheimer's LA, in partnership with USC and the California Endowment, develops materials tailored to African Americans on risk reduction for dementia
West Central Dementia Care Network is founded to support African American caregivers
Alzheimer's LA, in partnership with the State Dept of Health Services & UCLA, provides leadership for the development of the California Alzheimer's Disease Management Guideline, an evidence-based guideline for primary care physicians
Alzheimer's LA receives a grant from the Archstone Foundation to develop a Long-Distance Caregiver Program and establishes relationships with care consultants across the country to facilitate long-distance caregiving
Alzheimer's LA sponsors Statewide Healthcare Summit to promote quality in dementia care. Maureen Reagan serves as spokesperson
Alzheimer's LA takes the lead on Partnering with your Doctor, funded by the State Department, with David Hyde Pierce as spokesperson
Alzheimer's LA leads development of four Asian Dementia Care Networks, including two in LA for Chinese and Japanese families, in partnership with State Department on Aging, Federal Administration on Aging, and the Alzheimer's Association of Northern California
A regional office of Alzheimer's LA opens in the San Fernando Valley
Alzheimer's LA establishes its first website offering educational materials and information in English and Spanish
2001
• American Society on Aging presents the Award for Quality and Innovation in Managed Care and Aging to the Kaiser Permanente Dementia Care Project
• Memory Club, an Early Stage Program, is offered in the San Fernando Valley office
2002
• Alzheimer's LA opens a regional office in East LA
• The Alzheimer's Association adopts Partnering with Your Doctor program developed by Alzheimer's LA
• The 2nd Edition of the California Alzheimer's Disease Management Guideline is distributed, an effort lead by Alzheimer's LA in partnership with the State of California
• Alzheimer's LA merges with the Inland Empire Chapter
2003
• A Latino Services coordinator is funded by the California Wellness Foundation to serve Riverside & San Bernardino Counties
• Partnering with Your Doctor receives the American Public Health Association Archstone Foundation Award for Excellence in Program Innovation
2004
• In partnership with State of California, Alzheimer's LA expands work with Chinese and Vietnamese families and starts new dementia care network for Korean families
• Alzheimer's LA develops an online training program for long-term care administrators which is adopted state-wide
2005
• The first Many Faces of Dementia Conference is held in conjunction with the USC Alzheimer's Disease Consortium. Over 200 professionals attend.
2006
• The Asian Dementia Care Network wins the Family Caregiving Award from the National Alliance for Caregiving and the Metlife Foundation
• The Bilingual Activity Booklet for Children is selected by the National Alzheimer's Association for a Model Program Award
2007
• Alzheimer's LA hosts the nation's first educational program planned by and for people with memory loss. The Early Memory Loss Forum draws a full house of 380 participants and garners substantial media publicity
2008
• The Early Memory Loss Forum wins the American Society on Aging's Award for Innovation in Healthcare and Aging
2009
• Alzheimer's LA hosts the second Early Memory Loss Forum at the SkirballCultural Center
2010
• Alzheimer's LA implements an art program at LACMA, called The Heart of Looking at Art, for people in early stage, which includes training docents
2011
• The Asian Pacific Islander Dementia Care Network receives the national Rosalinde Gilbert Innovations in Alzheimer's Disease Caregiving Legacy Award from the Family Caregiver Alliance for efforts to improve access to care by diverse, underserved populations
• With funding from the Disney Family, Alzheimer's LA launches Memories in the Making art program
2012
• Young Professionals Committee is created and organizes tackleALZ for first time
Alzheimer's LA hosts the third Early Memory Loss Forum
In partnership with California Department of Aging and the Alzheimer's Association Northern California chapter, Alzheimer's LA initiates the Dementia Cal MediConnect Project ─an effort to improve care in health plans serving people who are dually eligible for Medicare and MediCal
The 1st An Unforgettable Evening® fundraiser is held and features a performance by Placido Domingo
Alzheimer's LA's work with the State Dept of Aging to bring the evidence-based The Savvy Caregiver program and its Spanish-language Cuidando con Respeto to ethnically diverse families receives the Rosalynn Carter Leadership in Caregiving Award from the Rosalynn Carter Caregiving Institute
The 2nd Annual An Unforgettable Evening with Darlene Love raises $500,000
Memories in the Making is available in all Alzheimer's LA offices
Alzheimer's LA develops low literacy education materials and program including caregiver tip sheets focused on challenging care situations and the IDEA! Behavior Management Strategy
On January 7th, the organization disaffiliates from national Alzheimer's Association. 100% of all funds raised stay local
Alzheimer's LA receives the Rosalinde Gilbert Caregiving Legacy Award from the Family Caregiver Alliance for its impact on public policy efforts to improve care for people who are dually eligible for Medicare and MediCal through the Dementia Cal MediConnect Program
Alzheimer's LA holds the 4thEarly Memory Loss Forum
The 4th annual An Unforgettable Evening featuring Herb Albert and Lani Hall raises $550,000
Alzheimer's LA hosts the first Visionary Women's Luncheon on October 6thand raises $113,000
Alzheimer's LA attends the Us Against Alzheimer's Summit in Washington, DC and joins Leaders Engaged in Alzheimer's Disease (LEAD), an advocacy coalition in Washington, DC
The Center for Medicare and Medicaid Services (CMS) issues an Informational Bulletin on Dementia at the urging of and based on policy work done by Alzheimer's LA
The 5th Annual An Unforgettable Evening featuring Broadway Legend Jennifer Holliday raises $635,000
In partnership with BrightFocus Foundation, Alzheimer's LA provides first research grant for $100,000 to two local researchers
Through a grant from the Rupe Foundation, Alzheimer's LA develops and produces a telenovela, "Lost Memories," in both English and Spanish, a four-part series detailing one family's struggle to fight the stigma of Alzheimer's
5th Annual Memories in the Making Art Exhibit is held at Bergamot Station with over 200 people in attendance and a performance by LA Opera
The Los Angeles Aging Advocacy Coalition awards its 2017 Champion Award to Debra Cherry for advocating on behalf of seniors and their caregivers
Dr. Debra Cherry is elected to the NAPA Advisory Council, providing advice on Alzheimer's and other dementias research, care, and services to federal agencies
Alzheimer's LA sponsors the monologue, El Cuidador, a moving tribute from Sergio Ochoa, Jr. to his actress mother Leonorilda Ochoa, held at El Camino College
Alzheimer's LA's programs and efforts receive visibility in several national publications in the aging world, including Generations, and through several webinars that reached over 1,100 participants
2nd Annual Visionary Women's Luncheon raises $157,000
The SCAN Foundation selects the Dementia Cal MediConnect program for its 2018 Innovations in Healthcare Award
Bring Our Loved Ones Home taskforce is created; launches Project Lifesaver –a radio frequency bracelet that can be used to find individuals who have wandered
Alzheimer's LA hosts the Statewide California Dementia Healthcare Summit assembled to stimulate improvements in dementia care and attended by over 170 healthcare champions
Alzheimer's LA leads a coalition of aging organizations opposed to legislation that would add barriers to the provision of mental health services for older adults
The 5th annual Memories in the Making Exhibition & Auction is held with over 200 guests and 16 artists in attendance
The 12th annual East LA Caregiver Wellness Day is held at the Alhambra Campus of the Keck School of Medicine with over 100 caregivers in attendance
Caregiver Wellness Day is held in the San Fernando Valley with 75 caregivers in attendance and hundreds more stopping by the resource fair vendor booths
Alzheimer's LA public policy staff lead efforts that save state mental health funding for services that benefit people with dementia
In Fiscal Year 2018, AlzDirect Connect generates 720 referrals, an increase of 25% from the previous year
The 3rd Annual Visionary Women's Award Luncheon raises $176,000
The annual An Unforgettable Evening with Leslie Odom Jr raises more than $720,000
6th annual Memories in the Making Art Exhibit is held at Bergamot Station with 40 pieces on auction, an LA Opera performance, and over 130 guests
13th annual East LA Caregiver Wellness Day with 182 family caregivers (20% increase over prior year)
San Fernando Valley Caregiver Wellness Day with 90 caregivers plus several hundred additional connections through the senior health fair held simultaneously
AlzLA launches a train-the-trainer program for Health Talent 2, an agency that employs more than 1,500 low-income family caregivers, for people who are enrolled in AltaMed's PACE Program
Alzheimer's LA sponsored bill, AB 453 (Chau), is signed into law by Gov. Newsom, requiring all EMTs have dementia training on how to effectively interact with people with the disease and their caregivers
Alzheimer's LA is awarded the Grantmakers in Aging award for our diversity programs and in recognition of Faces of Caregiving, a Japanese American video program
CEO Heather Cooper Ortner appears with advocate Tara Hicks on Olympic & Bundy ─a FOX11 podcast with anchor Christine Devine
Bill Plaschke, preeminent sportswriter for the LA Times, writes an article about our basebALZgroup that appears in the Sunday edition garnering widespread attention for the program and Alzheimer's LAy