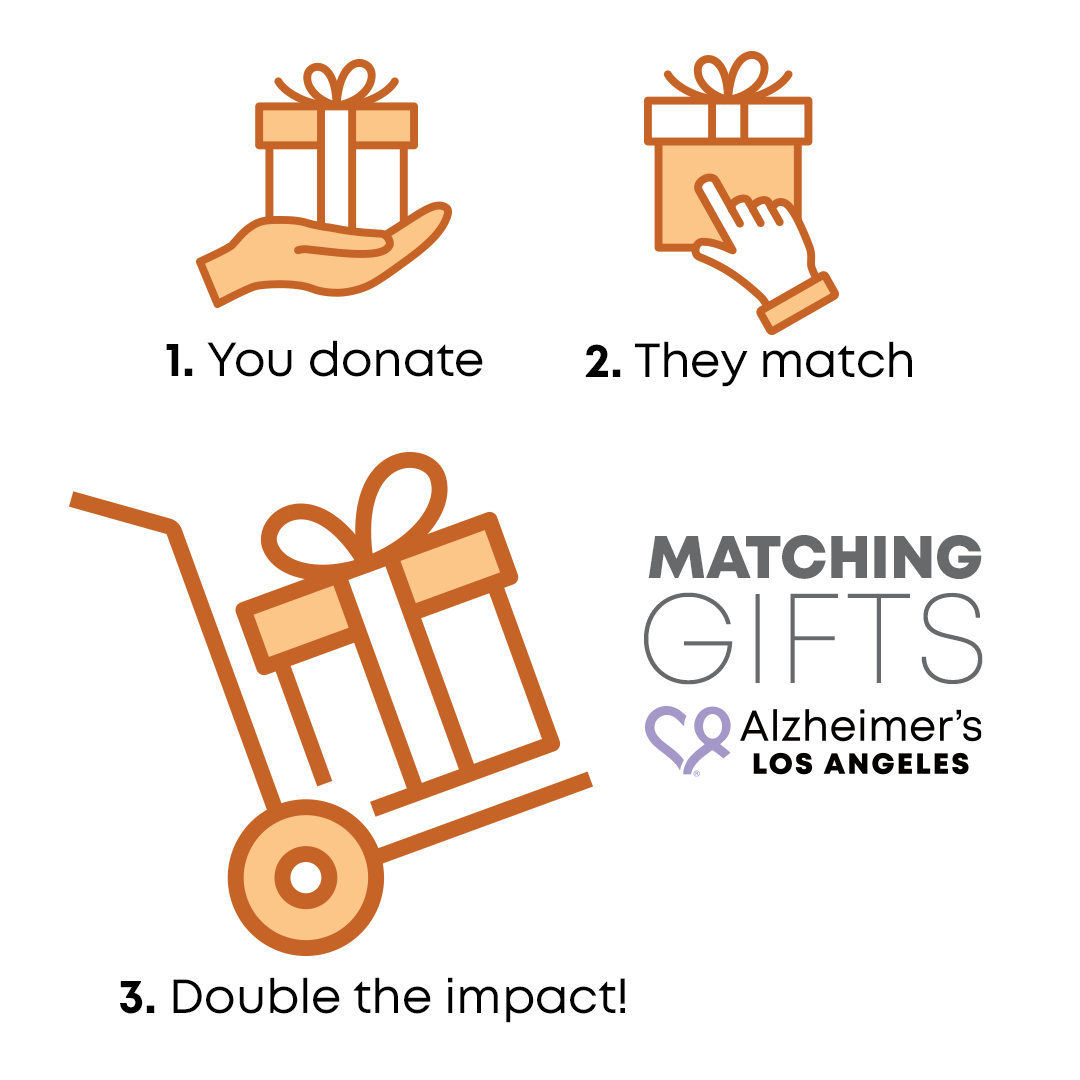 Double the size of your gift
Double, or even triple, the impact of your donation! To initiate a matching gift, use the search tool below to find your employer.
Matching Gift
and
Volunteer Grant
information provided by

If your employer is in our database, select it to see specific instructions for your company's matching gifts process.
MATCHING GIFTS
Matching Gift Recipient
Please designate Alzheimer's Los Angeles as the recipient of the matching gift. The recipient address for your matching gift is:
Alzheimer's Los Angeles
Attn: Donor Services
4221 Wilshire Blvd, Ste 400
Los Angeles, CA 90010
If you have a question about processing a matching gift, please contact Jennifer Holloway at jholloway@alzla.org or 323.930.6246.
If you have any questions about your employer's matching gift program, please contact your employer directly.
Matching Gift FAQs
A matching gift is a donation made by an employer in response to an employee donation.
Employee matching gift programs are corporate giving programs designed to encourage charitable giving among their employees. In turn, the company receives tax benefits and a boost to their philanthropic reputation.
Matching gift requirements vary from company to company, but they all require the employee who donated to ask for the match (nonprofits cannot ask on behalf of the employee; you must ask directly)
Here are typical requirements:
Minimum donation is $25
Maximum donation between $5,000-$25,000
Employee must request match within one year of donation
Some companies will also match a donation made by a part-time employee, retiree, or spouse
Check your company's matching policies in the box on this page, or contact your HR dept.
The match ratio is the percentage amount of your gift that your company will match.
Most companies match on a 1:1 ratio; that is, they will donate one dollar for every dollar that you donated. However, a few companies will match half (.5:1), and a few will even double match (2:1)!
Common ratio examples:
1:1 = You donate $100; your company donates $100
.5:1 = You donate $100; your company donates $50
2:1 = You donate $100; your company donates $200
It's a quick and easy way to double your contribution!
Yes! It's not too late to apply for a matching gift! Many companies allow employees to submit match requests for 1 year following the date of the donation.
Volunteer grant programs are corporate giving programs in which companies provide monetary donations to organizations where employees volunteer regularly.
Each company has specific guidelines for their volunteer grant programs — search in the box above to see if your company offers this benefit and find everything you need to submit your volunteer time. You can always contact your company's HR department for more information.
If you volunteer with us, it's an easy way to provide us with additional financial support!
It's still possible that your employer will match your donation, even if you don't find your company on our list. Check with your company's HR manager and ask if your donation can be matched.
Absolutely! Matching gifts are a great opportunity to boost participants' fundraising totals.
Alzheimer's Los Angeles is a tax-exempt organization (#95-3718119) under Section 501 (c) (3) of the Internal Revenue Code, and your gifts are tax deductible to the full extent of the law.
Pages in the Get Involved section