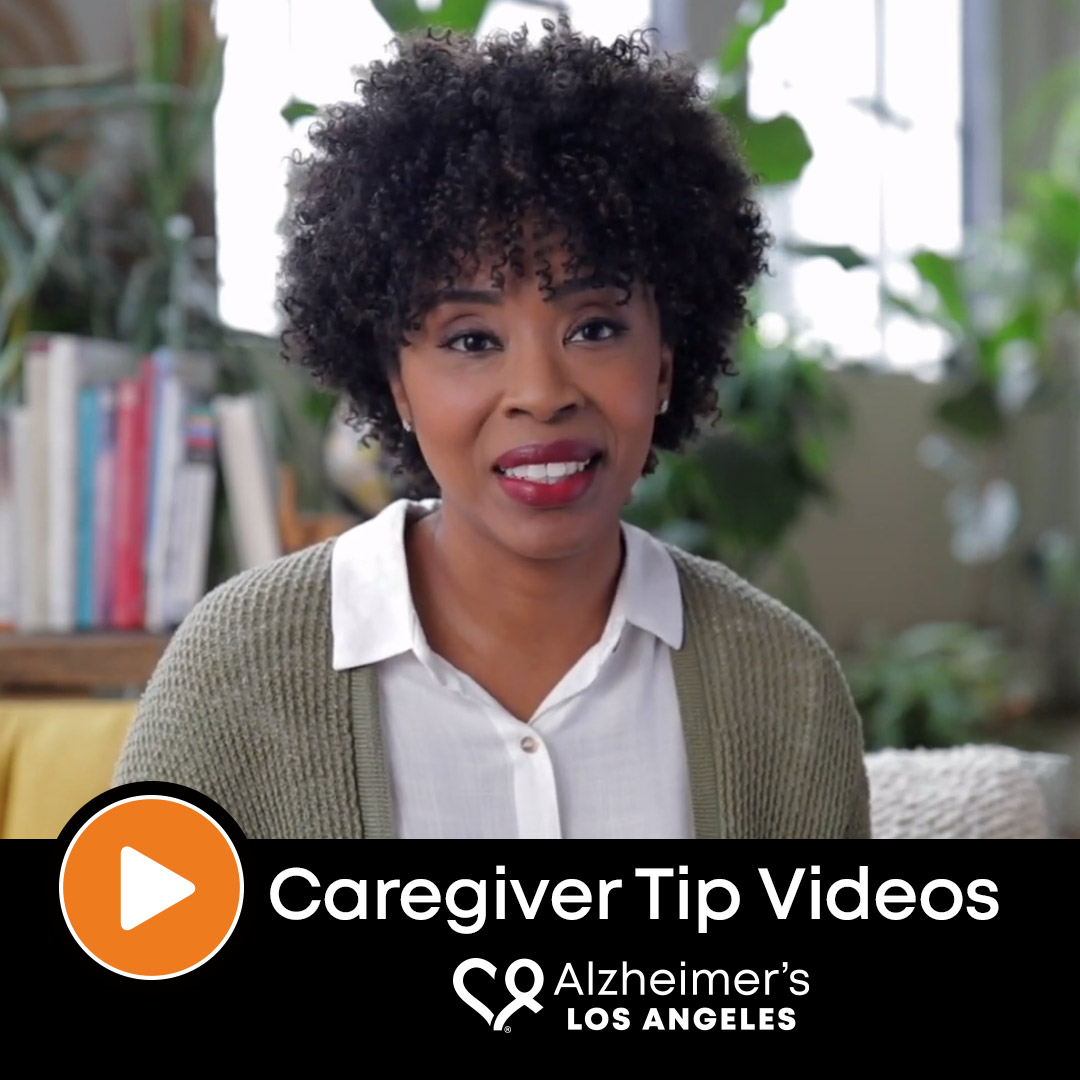 Caregiver Tip Videos
Welcome to Alzheimer's LA's Caregiver Tips video series!  Each episode highlights a common concern, drawn from the real-life experiences of caregivers, and shares practical advice you can use today.
It is common for people living with Alzheimer's or dementia to become sad or depressed. They may stop seeing friends, or friends may stop seeing them. They may lose interest in the things they used to do. They may stop eating, have trouble sleeping, or sleep too much. These can be signs of depression. Learn what you can do to improve the situation and help them cope.
When you are taking care of someone with Alzheimer's or dementia, you may be challenged with maintaining their well-being. It's important to keep them active and social, but as time goes on, you may need some new ideas. Learn tips to keep your loved one's mind and body active AND their spirits up.
A person with Alzheimer's or dementia may need help with taking their medicine. Taking too much, too little, or not following the directions can be dangerous. Learn strategies to keep them healthy & safe.
Over time, driving gets harder for someone with Alzheimer's or dementia and at some point, they will need to stop. This can be very hard as it feels like they are losing their freedom. It adds another responsibility for family members and caregivers. Yet their safety and the safety of others is most important. Learn how to navigate this process and keep everyone safe.
It may surprise you that sex can be an issue for people with Alzheimer's and dementia. But sex and wanting to feel connected is a natural and basic human need that those affected still have. However, they may not process these feelings the way they used to, and this can result in hyper-sexualized behavior, verbally or physically, toward themselves or other people ─ including strangers. Learn how to address this situation when it happens and know when to ask for medical help.
A person with Alzheimer's or dementia may become more confused or nervous later in the day ─ often as the sun sets. This is called sundowning. They may see or hear things that are not there, accuse people of things that aren't true, and may pace or walk back and forth. Learn why this happens and what you can do to avoid or minimize this behavior.
A person with Alzheimer's or dementia may have trouble knowing when something is dangerous or making safe decisions. Learn simple things you can do to help them feel more relaxed and less confused at home which can help prevent accidents.
When a loved one is diagnosed with Alzheimer's or dementia, your relationship may change dramatically as the disease progresses. At times, you may experience feelings of loss & grief because of those changes. Learn tips to help you cope with your emotions while you provide care for someone who you can no longer rely on the way you used to.
Pages in the Caring for a Person with Memory Loss section