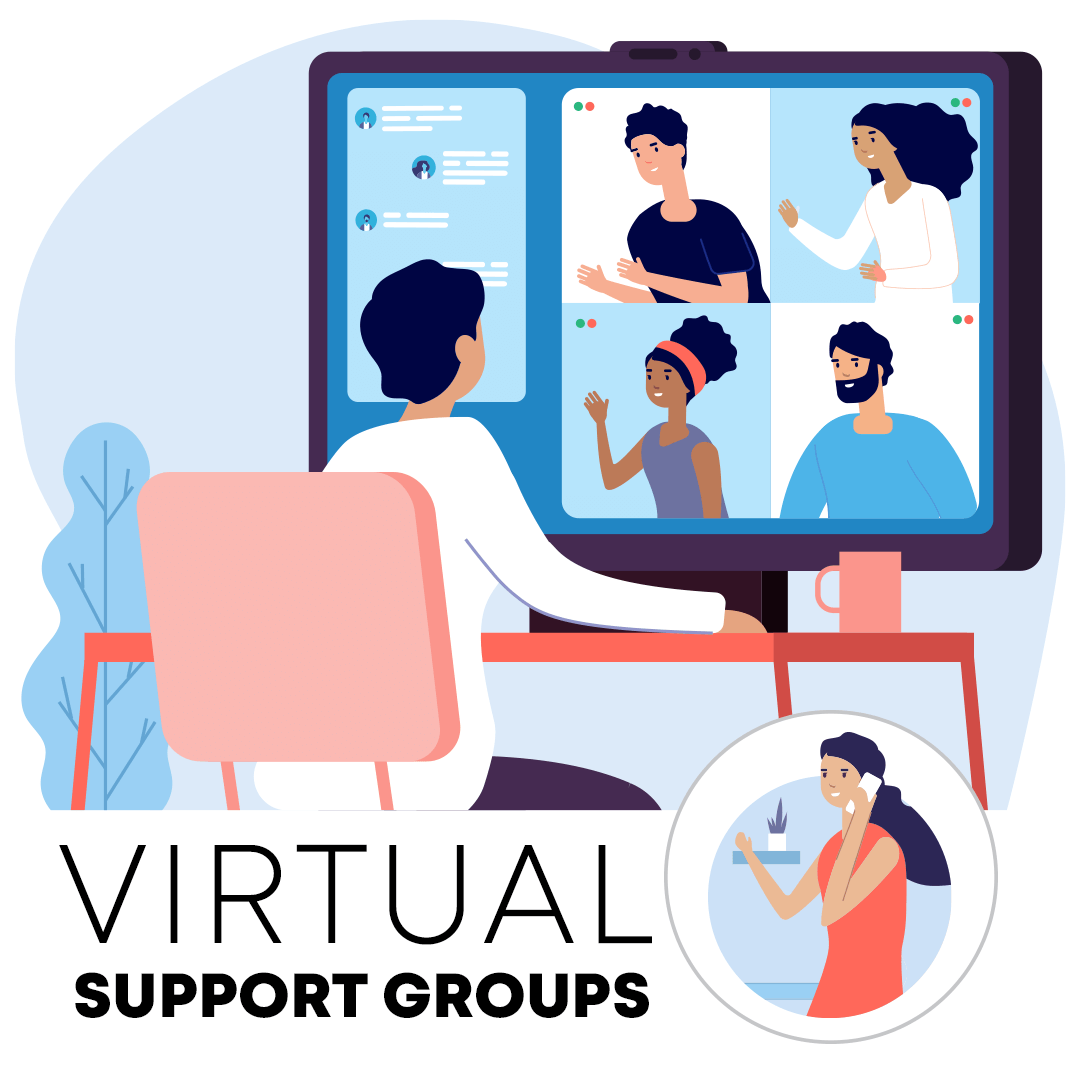 Virtual Support Groups
In response to the COVID-19 (coronavirus) pandemic, we are now offering virtual support groups! Support groups are offered for caregivers, as well as family and friends, of persons with Alzheimer's disease or another type of dementia. Our support groups offer a safe place to talk through challenges, share feelings and concerns, and learn about resources that are available. The virtual groups are held using Teams, and participation is free and easy. Attendance may be done so via either telephone (voice only) or video call.
FAQs
Due to current COVID-19 guidelines, all Alzheimer's LA groups are being held via Zoom or telephone. We will be resuming our in-person groups as soon as these guidelines enable us to do so.
Yes. You can join by video with a smart phone or tablet or you can use any phone to call in and join.
Alzheimer's LA support group facilitators are experienced and trained staff or volunteers. Alzheimer's LA staff and volunteers work closely together to ensure caregivers are given the most up-to-date and pertinent resources, information, and support.
Absolutely! There are many benefits to joining a support group including: receiving practical advice, learning about community resources, improving your coping skills, and gaining a sense of control over your situation. Here are some testimonials from caregivers:
"I always get such good advice from the facilitator and the group members. I am appreciative of the tools that are given to us."

"With the help of Alzheimer's LA support groups, I've learned compassion and how to make the journey better for the person I am caring for who is living with dementia."

"This group is what I look forward to every week. It helps me so much."

"I'm grateful support group is part of our family's caregiving story!"
No. All Alzheimer's LA support groups, programs, and services are free.
Current Support Groups
Group Name
Day & Time
Contact
Adult Child Caregiver Support Group
Every Thursday, 1:00-2:30pm
Anne Oh: aoh@alzla.org, 323-930-6271
Adult Children Caring for a Parent with Dementia Group
2nd & 4th Tuesday, 12:00-1:30pm
Monica Moore: MRMoore@mednet.ucla.edu
After Dementia (Grief & Bereavement Support Group)
2nd & 4th Friday, 2:00-3:30pm
Anne Oh: aoh@alzla.org, 323-930-6271 or Veronica Sanders: vsanders@alzla.org, 323-930-6287
African American Men's Group – Brother to Brother
2nd & 4th Thursday, 6:30-7:30pm
Jim Kelly: jimkelly2573@gmail.com, 562-712-3254
Asian American & Pacific Islander (AAPI) Dementia Caregiver Support Group
3rd Thursday, 1:00-2:00pm
Anne Oh: aoh@alzla.org, 323-930-6271 or Celeste Kim: ckim@sbssla.org, 213-514-4482
Caregiver Support Group
1st & 3rd Thursday, 10:30am-12:00pm
Hannah DeGiuseppe: Hannah@agingnext.org, 909-621-9900
Caregiver Support Group
2nd and 4th Wednesday, 6:00-7:30pm
Janice Masters: Janice@agingnext.org, 909-621-9900
Caring for the Caregivers (Faith Based Support Group)
1st & 3rd Thursday, 11:00am-12:30pm
Michelle Bracken: michelle@bracken.com
Chinese (Mandarin) Speaking Dementia Support Group
2nd Wednesday, 5:00-6:00pm
Kristy Huang-Arai: khuang@alzla.org, 323-930-6257
Connections: Support Group for Individuals Living Alone with Early Memory Loss
Every Tuesday, 11:00am-12:00pm
Tori Boyer: tboyer@alzla.org, 323-930-6240
Dementia Caregiver Support Group
2nd & 4th Monday, 10:30am-12:00pm
Veronica Sanders: vsanders@alzla.org, 323-930-6287
Dementia Caregiver Support Group
Every Tuesday, 5:30-6:30pm
Anne Oh: aoh@alzla.org, 323-930-6271
Dementia Caregiver Support Group
Every Wednesday, 7:00-8:00pm
Anne Oh: aoh@alzla.org, 323-930-6271
Dementia Caregiver Support Group (meeting in-person)
1st & 3rd Tuesdays, 6:00-7:30pm
2nd & 4th Thursday, 10:00-11:30am
Chino Valley Community Church
Lloyd Mustin: l.mustin@verizon.net, 909-270-0866; or Lisa Laufer: lllaufer@yahoo.com, 909-762-5702
Dementia Caregiver Support Group
1st Sunday, 1:30pm
Deacon Dick Williams: dwilliams@americanmartyrs.org
Dementia Caregiver Support Group
Every Thursday, 10:00-11:30am
Barbara Hament: Barbara@SeniorCareNavigatorLA.com, 310-422-8825
Dementia Caregiver Support Group
2nd & 4th Wednesday, 10:30am-12:00pm
Jorge Sciupac: jesciupac@yahoo.com, 310-901-9319
Dementia Caregiver Support Group
2nd & 4th Thursday, 11:00am-12:00pm
Teresa Hernandez: theegreen@yahoo.com
Early Stage Care Partner Support Group
Every Monday, 12:00-1:00pm
Tori Boyer: tboyer@alzla.org, 323-930-6240
Evening General Dementia Caregiver Support Group
(UCLA affiliated patients and family only)
1st & 3rd Monday, 6:30-8:00pm
Monica Moore: MRMoore@mednet.ucla.edu
Family Caregiver Support Group
1st & 3rd Thursday, 6:00-8:00pm
Gale Taylor: Gale@agingnext.org, 909-851-3093
First AME Church of Los Angeles Family Caregiver Support Group
2nd & 4th Tuesday, 11:30am-1:00pm
Bobbe Akalonu: 323-234-6033
Farsi-Speaking Well-Being Education & Support Group
Contact facilitator for more information
Dr. Nahid Nancy Rafii: nancyrafii@gmail.com, 310-874-5110
Frontotemporal Dementia Caregiver Group
3rd Tuesday, 12:00-1:30pm
Monica Moore: MRMoore@mednet.ucla.edu
General Dementia Caregiver Group
(UCLA affiliated patients and family only)
2nd & 4th Wednesday, 1:00-2:30pm
Monica Moore: MRMoore@mednet.ucla.edu
Group for Caregivers of Individuals Living in Residential Facility
Every Friday, 5:00-6:00pm
Jim Kelly: jimkelly2573@gmail.com, 562-712-3254
IDD (Intellectual or Developmental Disability) & Alzheimer's/Related Dementia Caregiver Support Group
1st & 3rd Wednesday, 4:00-5:00pm
Zina Paris: zparis@alzla.org, 323-930-6212
Japanese American English Speaking Dementia Caregiver Support Group
4th Thursday, 10am
Little Tokyo Service Center: 213-473-3035
Japanese American English Speaking Dementia Caregiver Support Group
4th Saturday, 10:30am
Little Tokyo Service Center: 213-473-3035
Japanese Speaking Dementia Support Group
2nd Thursday, 1:00-2:30pm
Little Tokyo Service Center: 213-473-3035
Korean Speaking Dementia Support Group (Evening)
2nd Tuesday, 7:00-8:30pm
Jung-Ah Lee: jungahl@uci.edu, 949-343-5333
Korean Speaking Dementia Caregiver Support Group
TBD- Coming in January!
Little Tokyo Service Center: 213-473-3035
Lauren's Memory, Coffee & Compassion Support Group
Every Wednesday, 10:00-11:00am
Lauren Mahakian: lauren@familyconnectcare.com
LGBTQ Dementia Care Partner Support Group
2nd & 4th Monday, 4:00-5:00pm
Anne Oh: aoh@alzla.org, 323-930-6271
Lewy Body Dementia Caregiver Group
1st & 3rd Tuesday, from 6:30-8:00pm
Monica Moore: MRMoore@mednet.ucla.edu
Long-Distance Caregiver Support Group
2nd & 4th Thursday, 7:00-8:00pm
Sid Adelman: sidadelman@gmail.com sidadelman@gmail.com or Anne Oh: aoh@alzla.org
Korean Speaking Dementia Support Group
1st Tuesday, 2:00 - 3:00pm
2nd Wednesday, 10:00 - 11:00am
3rd Thursday, 11:00am - 12:00pm
4th Friday, 3:00 - 4:00pm
Jane somang@somangsociety.org, 562-977-4580
Men's Caregiver Support Group
2nd Friday, 10:30am-12:00pm
David Sitzer: drsitzer@graymattershealth.com, 213-293-9408
Spanish Speaking Dementia Support Group
Every Wednesday, 4:00-5:00pm
Dinora Toj: dtoj@alzla.org, 844-435-7259
Spanish Speaking Dementia Support Group
Every Monday, 1:30-3:00pm
Mirella Diaz-Santos, PhD: mdiazsantos@mednet.ucla.edu, 424-835-0843
Spanish Speaking Dementia Support Group (Evening)
2nd Wednesday, 7:00-8:00pm
Esperanza Roman, MSW: eroman@alzla.org, 323-895-2570
Spanish Speaking Dementia Support Group
2nd Thursday, 10:00-11:00am (phone only)
Angie Moran: amoran@alzla.org, 323-859-8810
Temple Aliyah Support Group
(meeting in-person)
Every Monday, 1:00pm
Sid Adelman: sidadelman@gmail.com
USC Family Caregiver Support Group
(San Fernando Valley)
4th Thursday, 6:00-7:30pm
Mrs. T: wecare4others@gmail.com, 818-934-6362
Watermark Westwood Village
(meeting in-person)
4th Wednesday, 6:00-7:30pm
Reggie Rodriguez:: reggierodriguezii@gmail.com, 818-934-6362
Young Adult Caregiver Support Group
Every Monday,5:30-6:45pm
Zina Paris zparis@alzla.org, 323-930-6212
Young Onset Dementia Group
1st Tuesday, 12:00-1:30pm
Monica Moore: MRMoore@mednet.ucla.edu
Pages in the Services section