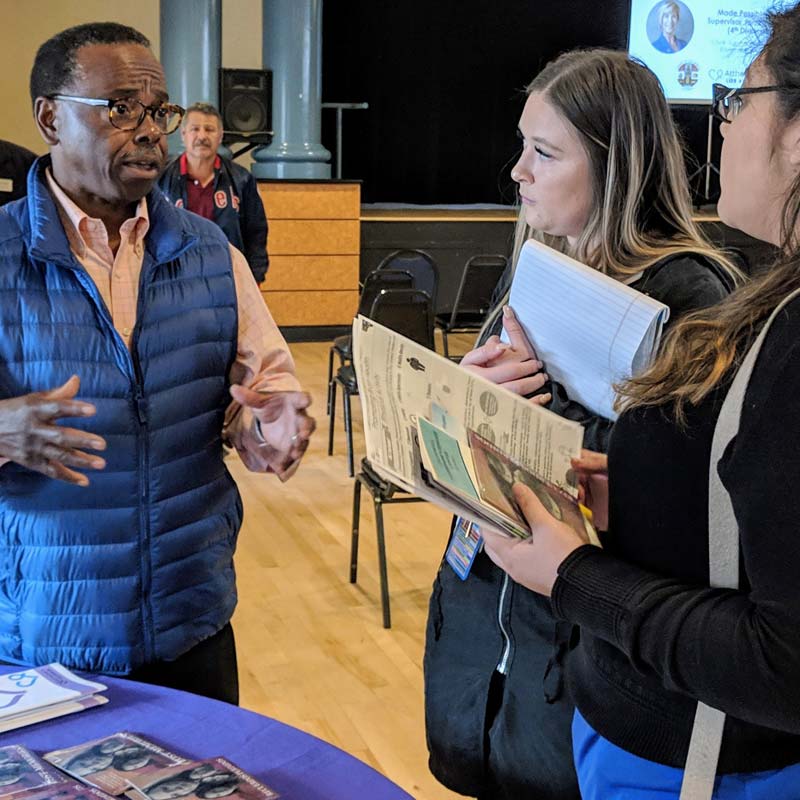 Jim Kelly, Speaker's Bureau Volunteer
After helping to care for his mother-in-law, Jim reached out to Alzheimer's Los Angeles to find opportunities in which he could help those who were in similar situations. We asked him to volunteer as a Speaker's Bureau member.
The Speaker's Bureau is composed of volunteers who help raise awareness about Alzheimer's disease by providing presentations or representing us at resource fairs. Jim was hesitant at first because he had no formal Alzheimer's education. But after attending the Speaker's Bureau training and shadowing experienced presenters, his confidence increased and he's now been a valuable Speaker's Bureau volunteer since 2016 Jim's wife, Annie, also completed the training and is an active volunteer.
Jim says he enjoys outreach and education because, "I always come away learning more than I brought with me."
If you are interested in joining the Speaker's Bureau, please attend the upcoming training March 21 at our East Los Angeles office:
Learn how to provide presentations about Alzheimer's disease, brain health, and caregiving.
Help raise awareness about dementia and connect community members to valuable services.
Thursday, March 21 | 10 am – 5 pm
East Los Angeles Service Center
133 N. Sunol Dr.
Los Angeles, CA 90063
Attendees must complete an application prior to the day of training.
For an application, please contact Kimiko Kelly at kkelly@alzla.org or 323-930-6257.
I always come away learning more than I brought with me.
— Jim Kelly, Speaker's Bureau Volunteer