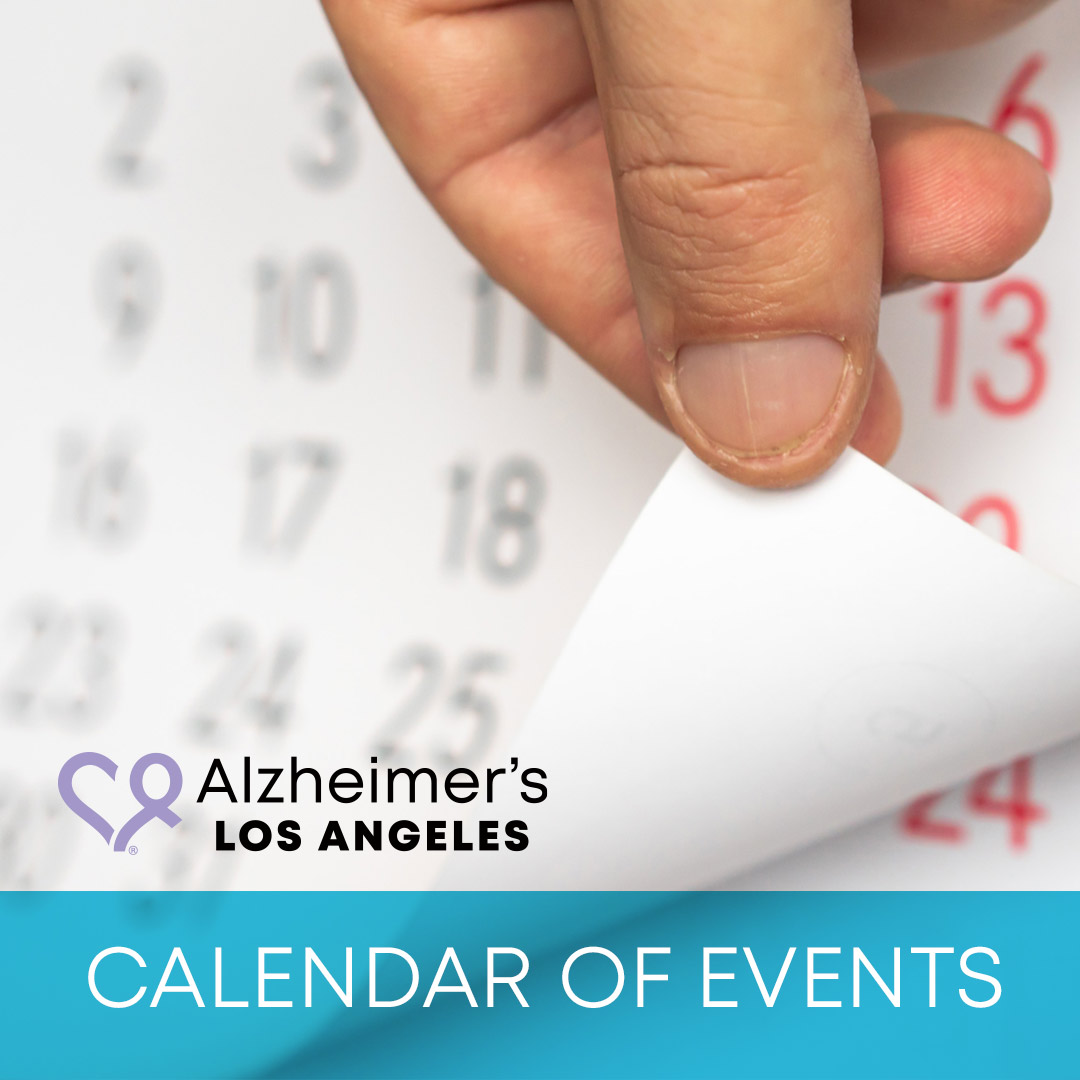 Calendar of Events
We offer free classes, workshops and activities for those with Alzheimer's or another dementia, and their caregivers. The calendar of events is below, or:
Activities
WEDNESDAY, MAY 4, 2022 @ 11AM – VIRTUAL
You're invited to join activity specialist, Jon Schaeffer, for an hour of fun and stimulating programming in the comfort of your home, featuring a mix of music, trivia, jokes, history news and word teasers. Sit back and listen, or chime in when you choose. There will be something for everyone. It's a casual, good time!
MONDAY, May 9, 2022 @ 10AM – VIRTUAL
MONDAY, May 23, 2022 @ 10AM – VIRTUAL
Memories in the Making is an art program that allows people with Alzheimer's disease and other dementias explore their memories and emotions through the process of creating art to fulfill the participant's desire to communicate, particularly when speech is affected. Please join us for a virtual Memories in the Making painting session. Art supplies provided upon request.
FRIDAY, MAY 13, 2022 @ 10AM–12PM
FRIDAY, MAY 27, 2022 @ 10AM–12PM
Memory Mornings® is an exciting activities program for people living in the midstages of dementia and for their care partners. Participants enjoy cognitively stimulating activities, a chance to mingle, and interactive presentations on music, art, yoga, and more. This is an in-person activity program held at the Alzheimer's Los Angeles Wilshire office that meets the 2nd and 4th Fridays of each month from 10:00am-12:00pm. We are now accepting new participants. Please contact Anne Oh at aoh@alzla.org or 323-930-6271 for more information.
TUESDAY, MAY 17, 2022 @ 1PM – VIRTUAL
Join LACMA Teaching Artist Elonda Norris in an engaging and fun virtual art session! She will guide the care partner and person living with dementia to look at and discuss works of art from the museum's collection - from the comfort of your own home.
FRIDAY, MAY 20, 2022 @ 11AM – VIRTUAL
BasebALZ, also referred to as "Talking Baseball", uses baseball as a topic for reminiscence therapy. Reminiscence therapy is an approach to improve the well-being of Alzheimer's patients by invoking and discussing their memories of the past.
WEDNESDAY, MAY 25, 2022 @ 10AM – VIRTUAL
TimeSlips is an improvisational storytelling process focusing on imagination rather than memory. Through open-ended questions based on a fanciful photo prompt, the facilitator, Sarah Jacobus, invites spontaneous responses from participants that get woven into a story. There's no pressure to answer "correctly" and no way to do it wrong! TimeSlips is lively and fun!
THURSDAY, MAY 26, 2022 @ 11AM – VIRTUAL
Music helps us connect to each other, our community and even to our own inner selves. Music to Remember is inspired by the powerful (and scientifically proven) role that music plays in restoring the body, soul and memory. This recital with LA Opera teaching artist Nandani Sinha stimulate remembrance and gently invite reflection through familiar and beloved songs. Of course, we encourage joyful interaction and singing-along throughout.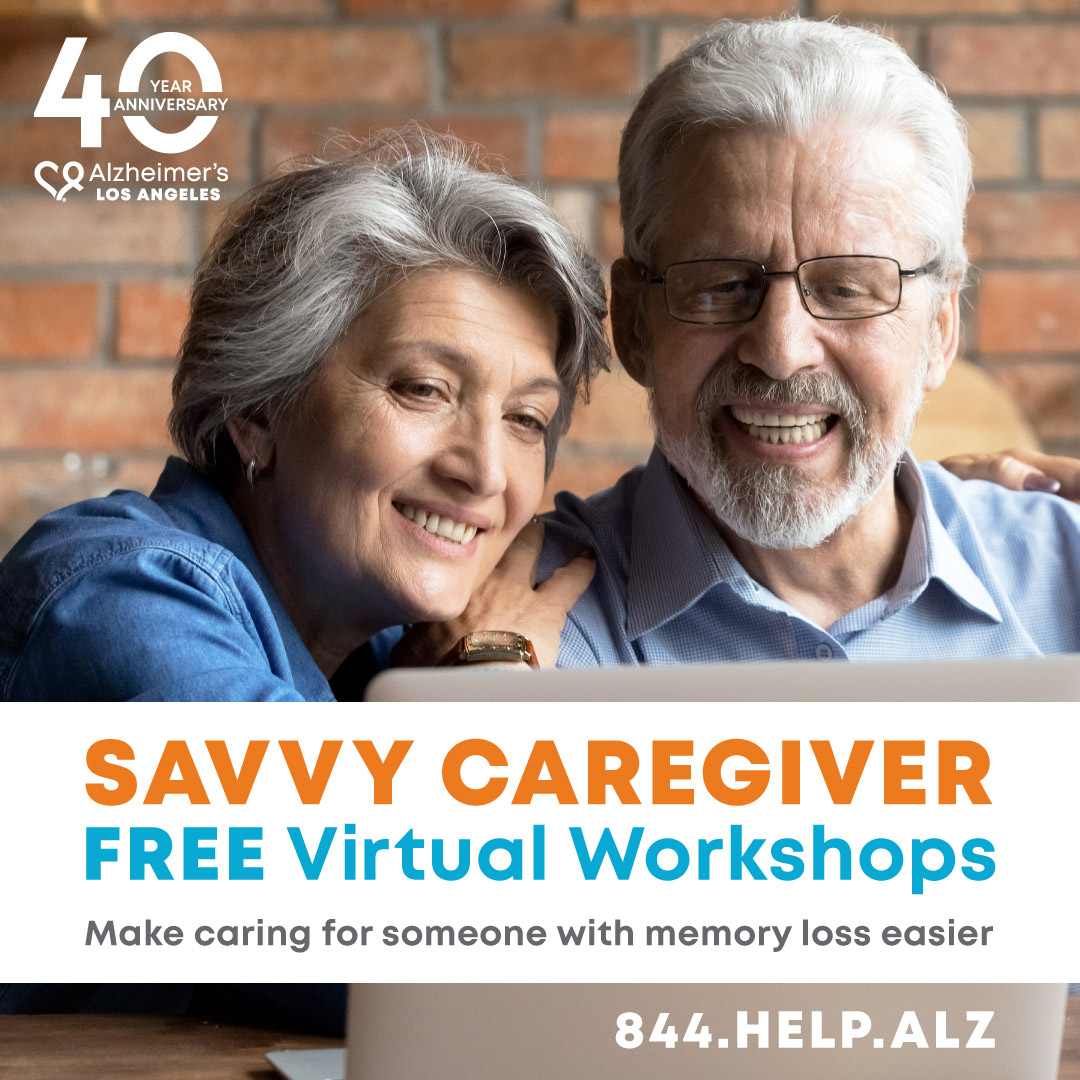 SAVVY CAREGIVER WORKSHOPS
This program develops the basic knowledge, skills, and attitudes needed to care for someone with Alzheimer's disease or another dementia. Classes are small-group format & held virtually. Computer with internet access required. Registration closes 4 days prior to the event. To RSVP or for more information, contact Sara Mikael at (323) 451.2699 or smikael@alzla.org.
TUESDAYS, MAY 10, 17, 24 from 5:30–7:30PM – VIRTUAL
Savvy Caregiver Express, 3-week program
Co-hosted by Heritage Clinic Pasadena
FRIDAYS, MAY 13, 20, 27 from 10AM–12PM – VIRTUAL
Savvy Caregiver Express, 3-week program
Co-hosted by Riverside Library
MONDAYS, MAY 16, 23. 31 from 10AM–12PM – VIRTUAL
Savvy Caregiver Express, 3-week program
THURSDAYS, MAY 19, 26 AND JUNE 2 FROM 3–5PM – VIRTUAL
Savvy Caregiver Express, 3-week program
Hosted by Kaiser Baldwin Park
Community Education Calendar of Events
Click on a specific event below for more information and to register.
For the protection of our staff and our community, Alzheimer's Los Angeles strongly encourages all participants to be fully vaccinated against COVID-19. We will be following the current LA City and County guidelines for indoor mask use and social distancing, but strongly encourage the use of masks. Participants should stay at home if they are feeling sick or have been in close contact with someone who is sick.
Para la protección de nuestro equipo y de nuestra comunidad, Alzheimer's Los Angeles recomienda firmemente a todos los participantes que se vacunen completamente contra el COVID-19. Seguiremos las indicaciones actuales de la ciudad y el condado de Los Ángeles sobre el uso de cubrebocas cuando estemos en un espacio cerrado, como también el protocolo de la sana distancia, pero se recomienda firmemente el use de cubrebocas. Los participantes que no se sientan bien, hayan estado en contacto con alguien que esté enfermo o tenga síntomas de COVID-19 deben quedarse en casa.
為了保護我們的社區及員工,阿茲海默洛杉磯強烈鼓勵所有講座參加者全面接種 COVID-19 疫苗。我們將遵循當前洛杉磯市和縣頒布的室內口罩使用和社交距離指導方針,並強烈鼓勵配戴口罩。報名參加者講座如感到不適或與生病的人有過密切接觸,請您留在家中。謝謝您的合作。
Pages in the Get Involved section