An Unforgettable Evening 2019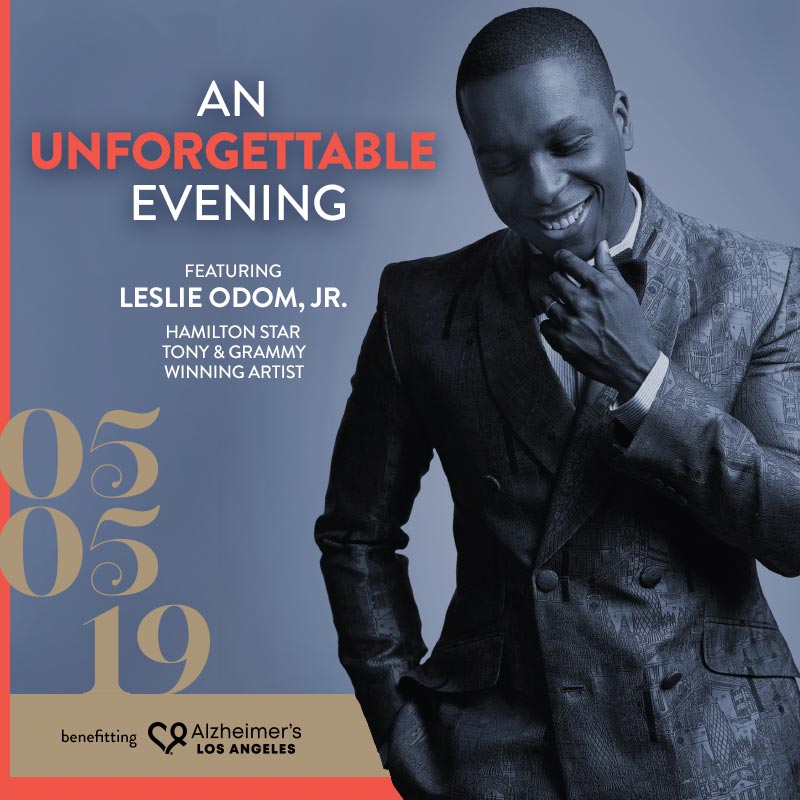 An Unforgettable Evening®
The 7th Annual An Unforgettable Evening® was held on Sunday May 5, 2019 at a private estate in Santa Monica. The fundraiser, held in the gorgeously appointed garden, hosted by Susan Disney Lord and Scott Lord, and emceed by Elex Michaelson, FOX11, was an inspiring evening attended by 220 guests with a special performance by Hamilton star, Tony and Grammy winning artist, Leslie Odom, Jr. There was also a live auction that included a once-in-a-lifetime Ermenegildo Zegna experience in Milan, a stay in a luxury Jamaica estate, portrait session with internationally-renowned photographer, Donald Graham, and a private tasting for 10 with The Macallan. The Jerry and Terri Kohl Family Foundation once again matched gifts up to $50,000 to add to the night's fundraising which currently total more than $720,000. Sponsors included Alfred E. Mann Family Foundation, American Airlines, Angeleno Magazine, The Bel Air, Covington Capital Management, McCormick Builds, PWC, Shamrock Holdings, Shepherd Kaplan Krochuk, UBS, The Walt Disney Company, and Ermenegildo Zegna.
HOSTED BY
Susan Disney Lord & Scott Richard Lord
Host Committee
Debbie & Mark Attanasio
Abigail Disney
Roy & Sheri Disney
Tim Disney
Beth & Joshua Friedman
Stephen & Claudia Glynn
Stanley & Ilene Gold
Teddy & Emily Greenspan
Bob Iger & Willow Bay
Richard & Randi Jones
Jerry & Terri Kohl
Michael & Liz Nyman
Debbie & Darrell Pattillo
Dr. Bill Resnick & Michael Stubbs
Anne Sweeney & Phillip Miller
Proceeds from An Unforgettable Evening® support the Disney Family Fund of Alzheimer's Los Angeles, ensuring local families have access to essential programs, services, and resources regardless of race, ethnicity, religion, sexual orientation, geography, age or socio-economic status.
Share This Story, Choose Your Platform!