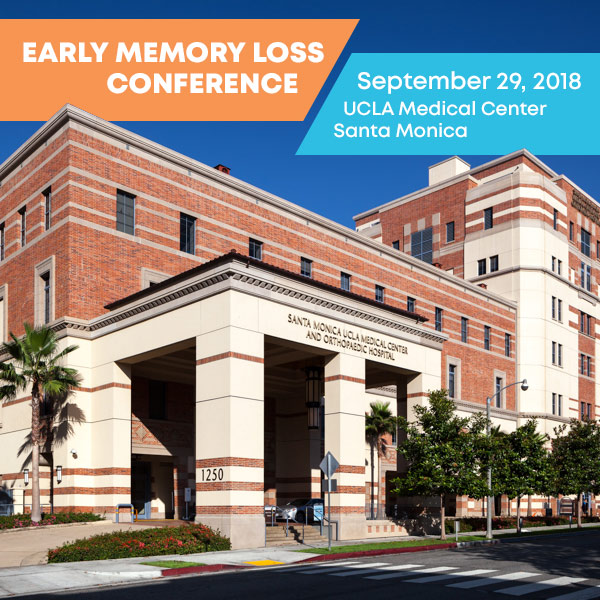 Memory concerns can be frustrating and irritating, and people are often confused about what to do or where to turn for help. Alzheimer's Los Angeles has long recognized that people who are dealing with memory concerns may feel frustrated, alone, and frightened.  Through our Early Memory Loss Conference, we offer a day of support and education to anyone experiencing early memory loss, a diagnosis of Mild Cognitive Impairment, or early stage Alzheimer's disease, their partners, or family members.
First held in 2007, the Memory Loss Conference was developed to meet the needs of people with memory loss and their care partners.  Join us for our next Early Memory Loss Conference on Saturday, September 29, 2018, at the Santa Monica UCLA Medical Center, in partnership with the Mary Easton Center for Alzheimer's Disease Research at UCLA.
The conference will feature a panel of individuals with early stage Alzheimer's and their care partners who will share their insights and personal experiences with us.  Dr. Sarah Kremen from UCLA will discuss Alzheimer's and the latest research. Rebecca Goldfarb, an elder law and estate planning attorney, will discuss getting financial and legal documents in order.
The conference is free for people with early memory loss. Family and community members are $20 each.  Scholarships are available. Professionals are also welcome; fee: $100. For more information or to register by phone, please call:  844.HELP.ALZ (844.435.7259).
Free parking, a light breakfast and box lunch will be offered.
Previous EMLC-Pasadena participants had this to say:
It gave me hope and other tools which I most need. Gracias!!!(Thank you!!!)
Very informative and helpful.
Panel discussion was very insightful.
Thank you for providing this information.
It was great and informative.
Will not wait to get personal affairs in order, I have procrastinated.