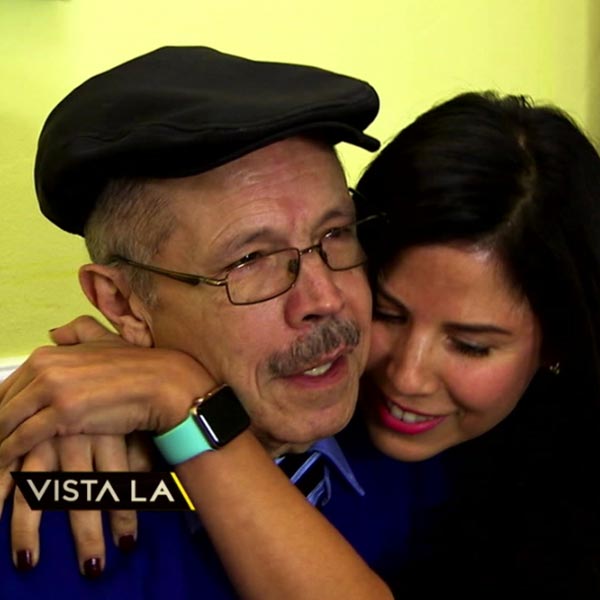 LOS ANGELES, Calif (KABC) — Francisco Espinoza is one of millions of people living with Alzheimer's and other forms of dementia in the U.S.
An immigrant from the Mexican state of Michoacan, Francisco raised three daughters-all college graduates with Masters' Degrees.
"It's been very challenging for all of us, because we're losing a little part of my father each and every day," said Jasmine Garcia, the eldest of Francisco's daughters. "My family will continue to fight for him as long as it takes, because I know he would have done the same for his girls."
He was diagnosed with Alzheimer's at 61, a young age for those with the disease. Soon after, he was forced to retire from his night manager job at The Grill on the Alley, an iconic Beverly Hills restaurant. It was a job he'd earned after many years of service, and a job that filled him with pride.
"At the Grill on the Alley, we're all one big family. And Frank was the leader of the family, really. Everybody loved him," said Bob Spivak, Owner of Grill on the Alley.
Francisco's drive to succeed in the U.S, led him to meet the love of his life. Taking English as a Second Language (ESL) courses at age 23, he met a young, equally driven, Equadorian immigrant named Enma. After 3 short months of dating, they were married.
Enma first realized something was wrong after a barber called to her attention that her husband had paid her twice. "Then I noticed that he started asking the same questions over and over," said Enma Espinoza.
Caring for someone with Alzheimer's not only takes an emotional toll, it can significantly impact a caregiver's financial, physical and mental well-being. Recognizing their need for assistance, Enma and the Espinozas reached out to Alzheimer's Los Angeles.
"Caregiving can be very isolating. So it's important that they know that they're not alone." said Tori Boyer, a Care Counselor at Alzheimer's Los Angeles. "We work with people in English and Spanish, providing a resource or guidance with care planning."
The Espinoza family became a part of a community and support system that is now thriving thanks to Alzheimer's L.A. Francisco's granddaughter, Arriana, has also taken an active role in advocating for Alzheimer's awareness.
Science's battle with the disease is far from over and the increase in Alzheimer's cases in California is truly staggering. But thanks to organizations like Alzheimer's Los Angeles, perhaps this difficult journey can be a bit less painful.
"Despite the challenges that he's facing, he still can smile and listen to a song," said Marisol Espinoza, Francisco's daughter. "If he can still smile, I can too."
If you need help, contact us:  help@alzla.org  |  844.HELP.ALZ (844.435.7259)
Share This Story, Choose Your Platform!